I saw on Twitter that there was a countdown to the release of Shin-Ok, so I decided to take advantage of it. (laughs).
By the way, for those who don't know, the Shin-Oku stickers and Ramen Baa & Gamla Twist are illustrated by the same person, and Ramen Baa & Gamla Twist is a sticker from the 80s. (The Shin-Oku sticker is from 2014 and has nothing to do with Ramen Baa & Gamla Twist. The illustrator is the same person.
History of Ramen Baba & Gamla Twist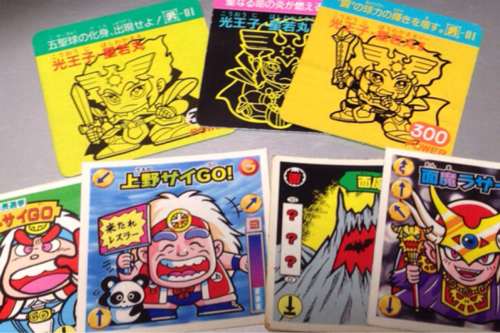 The plastic card above is Gamla Twist Mark 2, both lefts below are Ramen Baba & Gamla Twist, and both right are the sequel Final Ring released in the 2000s.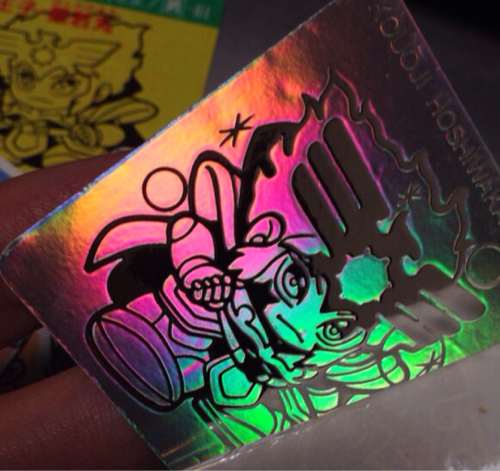 The basic idea is to use double stickers, so that when you turn the first sticker, a new illustration appears on the second one.
This is 80's quality!
At first glance, the stickers look the same. But the endorsements are slightly different, and the materials are different.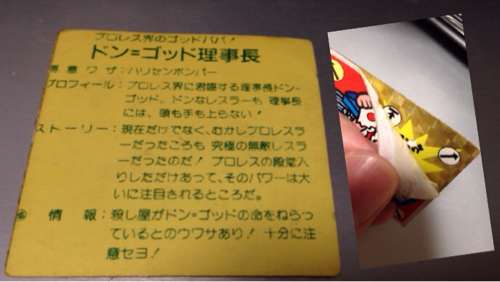 Please pay attention to the right sticker among the three. This is the one I bought on the day Ramen Baa was released. The material of the backing paper and the ink color are different from the usual ones.
The material of the backing paper and the ink color are different from the usual ones. Moreover, when I tried to peel off the first one, the glue was too strong and it fell apart! (laughs)
And the cutting is just so random!
But this is 80's quality, and I like it.
I was supposed to get a special sticker with my application ticket.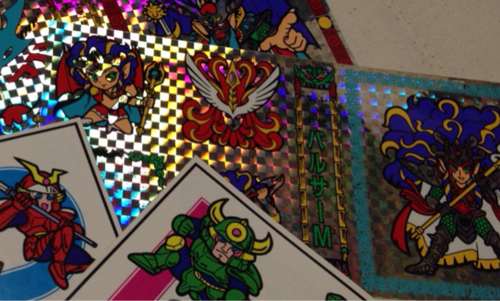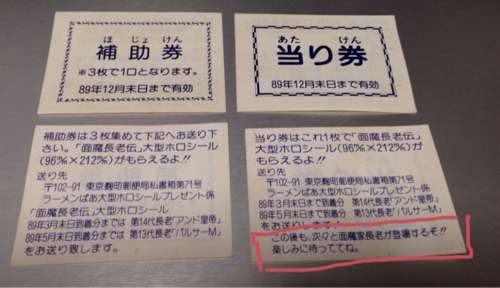 You can get a special sticker with one winning ticket or three supplementary tickets, but be sure to read the red line carefully.
There will be more Elders to come! Please look forward to it.
This is how it's written.
This is how it's written.
This is how it's written.
There were going to be a total of fifteen Masked Demon Elders, and one special sticker was going to appear every month.
As a child, I looked forward to them and collected all the "winning tickets" and "supplementary tickets" I could find! (More than 20)
(Over 20 of them.) I was going to get all the elders with these!
But…
Ramen Baa 14 is canceled
I had been looking forward to it, but the Elder Menma was not released.
On the contrary, all the [winning tickets] I collected were wasted!
That's right, the [winning ticket] plummeted!
I experienced the moment when the bubble burst in my childhood!
I experienced the moment the bubble popped in my childhood. The illusory Ramen Baa 14 was only published in Comic Bonbon.
This is the phantom Ramen Baa 14!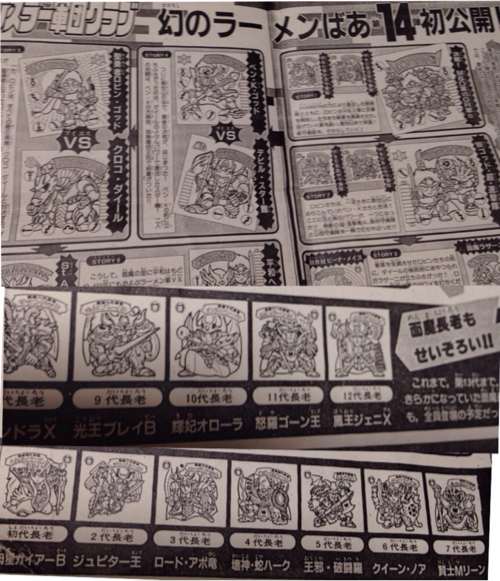 It's been 25 years, and I'm still so frustrated!
I'm already in the mood to apply for a Shin-Okku seal as a winning ticket!
What? What? Kanebo Foods owns the copyright, so they can't sell the 14th version?
"・・・・・・
I'm aware of such adult circumstances. (crying)
All right! I'm going to buy Kanebo Foods stock and ask them directly at the shareholders meeting!
What? What do you mean Kanebo Foods is no longer around because of the merger with Kracie Foods?
・・・・・・
It's the Generation Y! This is what it's like to be a kid in the 80s! Remember that! (Laughs)
I'm going to share this frustration with you.
I'll let you relive how tough it is. You'll be screaming, "What a waste!

Ramen Baa & Gamla Twist have a lot of different materials, but even so, there were quite a few doubles. I went to Manmaruma to sell a lot of duplicated stickers, such as face demon elders, winning tickets, auxiliary tickets, normal stickers, heads, and so on. And then…
I got 200,000 yen in cash!
I'm sure people who are not interested in stickers must have been bawling their eyes out. Don't forget that pure feeling when you look at the following pictures.
Two ordinary stickers. However, they are quite thick.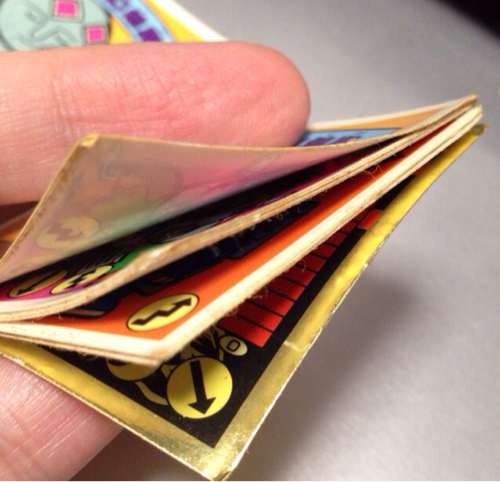 I was a little kid who used to create modified triple-X 10x stickers by overlapping duplicate stickers!
It's like throwing away 200,000 yen!
What a waste!
You felt it, didn't you? Even if you're not a collector, you must have felt this frustration, right?
Generation Y! This is what it's like to be an 80's kid! Remember this! (laughs)
I was just an idiot when I was a kid.
Time travel battles are great.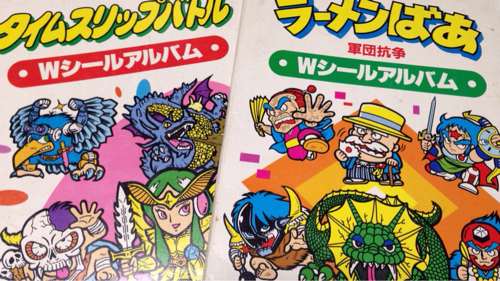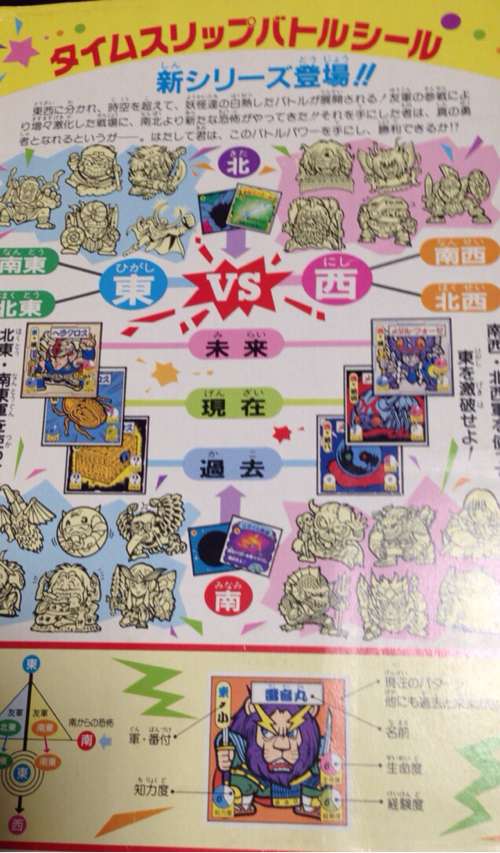 The same illustrator also released a sticker called Time Slip Battle, but it was short-lived. It's like the mysterious Zipangu legend in Bikkuriman.
The common denominator when a boom ends?
Ramen Baa & Gamla Twist was released in the 80's, but is there a common rule when a boom ends? I think so. Take a look at the following picture.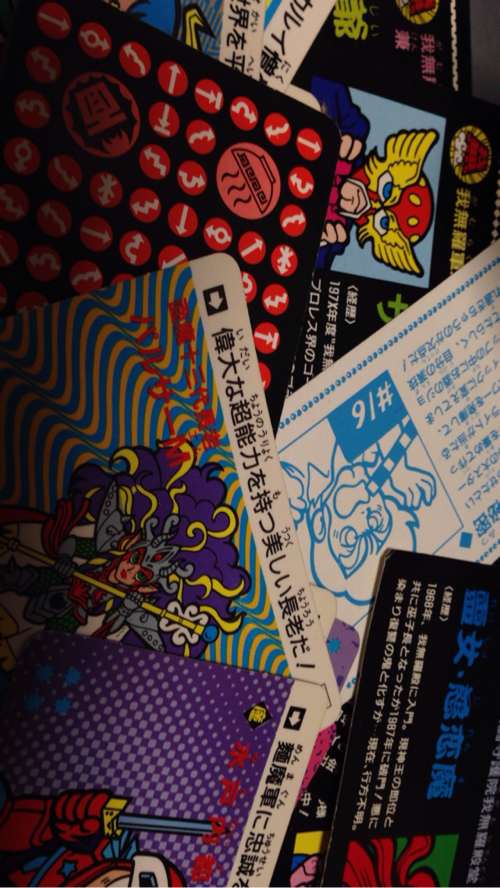 This is the Cardas version of Ramen Baa & Gamla Twist. The picture was a repeat of the original, and even the special sticker of the masked demon elder didn't even sparkle.
As a child, I felt that this was a product of adults who had fallen to the dark side and were just trying to make money.
In this day and age, it's like drinking a lot of shake and using the same design. The commercial law… Gohon! Huh? I think I have a cold.
However, there are a few original designs in the later Cardas version. I think the design is more important to me than the quality of the material or printing. If you're going to use the same pattern over and over again, I don't like it if it doesn't make sense in the story.
I knew it was the sticker!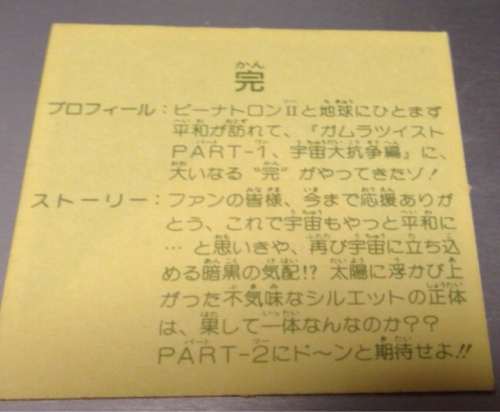 Ramen Baa was censored, but Gamla Twist is complete! And at the end, there's even a [Complete Seal].
Personally, I like the pattern of stickers where the story unfolds and ends with the final episode, so I'm thrilled that they made this complete sticker.
Ramen Baba & Gamla Twist continued on to Mark 2, and the final episode of Mark 2 was…
When Robin Jr. finally arrived on Earth, he found a Japan submerged in water due to global warming, people working like robots, and a planet that was being destroyed by weapons of mass destruction. The Earth was not ruled by the Dark Rebirth, but by a dark mind that had originally taken over the planet itself!
This is super socialist!
In other words, the message is to open up the future with the hands of the children of today.
But I like that kind of ending. Otogeek is also full of such socialist messages, isn't it? I think it's a shame that "The Final Ring" was released after 2000, because of its influence.
Well, I do have it, don't I? The Final Ring. But you've ruined the history so far, haven't you? Because the story…
Chancellor Don God and Ben K God (father and son) fighting over a woman!
Killer Joe the assassin (married and with kids in the last movie) trying to seduce the madam!
Hey! That's too graphic!
All the main characters are ruled by a dark mind! Even though I'm upset, I still buy them because I collect the omake stickers that come with the shakes…. They also use wafers, ahem, ahem! There's something wrong with my throat. I need to moisten my throat with the shakes in the fridge. (Explosion)
Well, in short, in the 80s…
Bikkuriman, Ramen Baba & Gamla Twist, Oba Kid, Time Slip Battle, Honma-Kaiya-na, Magical Sky Labyrinth, Yokai-Do 53ji, Sealed Sword Zanima, Dokkuriman, Phantasium Strikes Back, Mysterious Zipangu Legends, Meiji Monster Cards, Stuck-in-the-Mud Gum Dumpling, Appare Daishogun, Secret Ninja Book, Necros' Fortress, Mermaid Battle Knight, etc.
Just to name a few, there were so many kinds of omake stickers released.