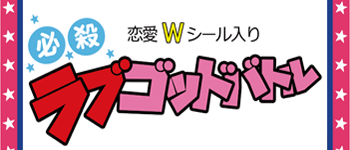 Collaborative artist biography: "Studio Merfan (Miharu Shimojo)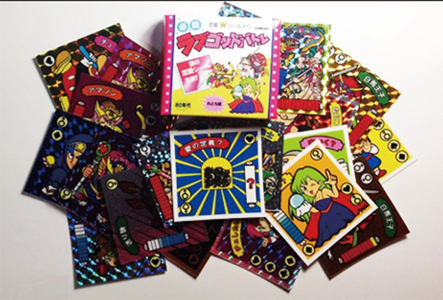 The company has designed many stickers released in the 1980s, including "Gamla Twist," "Ramen Baa," "Labyrinth of the Magic Sky," and "Time Slip Battle" (designed by Mimiharu Shimojo), as well as "BICLIMAN Synchro," "BIC RICOH," "Koeda-chan," and "Showdown! Sengoku Jidai", etc., and is a long-established design company founded by President Sakurai in 1977.
◆What are "Gamla Twist" and "Ramen Baba" (Wrestler Corps Seal)?
◆Schedule of omake stickers attached to condoms violates Pharmaceutical Affairs Law…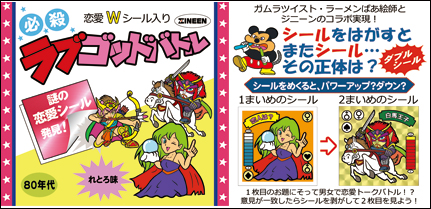 At first, we were planning to collaborate with each artist on a board game project (Dungeon Champ), so we were going to ask each artist to draw a character in tribute to "Labyrinth of the Magic Sky", but due to various reasons, we decided to work on our own projects. However, due to various reasons, each of us had to work on our own projects. Therefore, we rejected the illustration plan that we had originally planned to ask Shimojo-san to draw, and asked him to draw a new plan. That was "Love God Battle".
The concept was a "love battle between men and women. If they agreed, they were supposed to open the condom box and take out the SECRET sticker. However, it turned out that the process of enclosing the stickers in the condoms might violate the Pharmaceutical Affairs Law, and we had to abandon the idea. In the end, we decided to sell the seals only.
◆Some of the ideas that came out of the meetings at Studio Melfan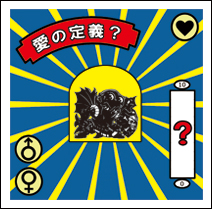 When I was meeting with Mr. Shimojo, I noticed that he had a special way of coming up with ideas for his drawings. He told me that he would draw the character design based on the theme of spades and hearts, and even after the drawing was completed, he sent me e-mails with words like "ocean" and "flower" that came to mind. I thought this sensibility was interesting, so I reflected it in the mark and the endorsement.
story
Men and women battle it out for love according to the subject on the first sheet! If they agree, peel off the stickers to see the second one!